Porsche 718 Boxster Service Intervals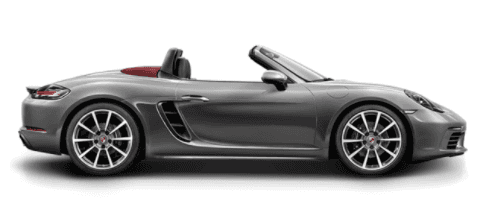 | | |
| --- | --- |
| Engine Oil | Every 10,000 miles or one year |
| Spark Plugs (Turbo Models) | Every 30,000 miles or three years |
| Spark Plugs (V-6 / V-8 / GTS Models) | Every 40,000 miles or four years |
| Pollen Filter and Air Filter | Every 40,000 miles or four years |
| Coolant | Every 40,000 miles or four years |
| Brake Fluid | Every 20,000 miles or two years |
To make sure your Porsche 718 Boxster performs like it did the day you drove it off the lot, you need to make sure you are staying up to date with its scheduled maintenance. To uphold the Porsche standard, here at Porsche Ontario our certified trained Porsche technicians recommend you to bring in your Porsche 718 Boxster at the various service intervals above.
If it's time or you notice something off with your vehicle be sure to bring it to our Porsche Ontario service center near Los Angeles.
How Often Does My Porsche 718 Boxster Need to be Serviced?
Your driving habits can vary service intervals and make some items wear out quicker. However, on average, your Porsche 718 Boxster should get its oil changed around 10,000 miles or every year, whichever comes first. This should be done to ensure your engine avoids major problems, and your 718 Boxster performs as you expect it to.
Based on which model you have, depends on when your spark plugs need to be serviced. For 718 Boxster Turbo models, your spark plugs should be serviced every 30,000 miles or every three years. If you have a 718 Boxster V-6, V-8, or GTS model, you can wait a little longer to have your spark plugs serviced. For these models your spark plugs should be serviced every 40,000 miles or every four years.
When it comes time to have your Porsche 718 Boxster serviced be sure to schedule a service appointment, so you are in and out. Be sure to browse our Porsche service specials for current offers.
Come to Porsche Ontario For Your Next Service Appointment
When your Porsche 718 Boxster needs to be serviced be sure to contact us online or visit us at our Porsche Ontario service center serving Los Angeles, Rancho Cucamonga, Chino, Chino Hills, Upland, and Walnut.