Porsche Hybrid and Electric Cars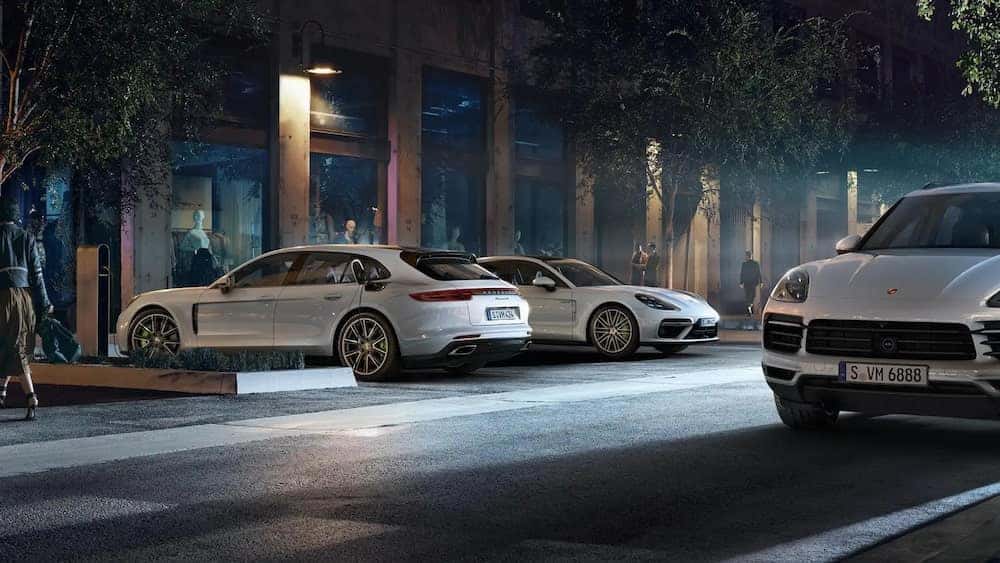 During the expansion of hybrid and electric automotive technology, many were quick to associate less fuel consumption with reduced road-going thrills.
Two decades later, Porsche proves that assumption inaccurate, if not the complete contrary. Upon pursuing our lineup, you will quickly notice our hybrid and electric vehicles – the Porsche Taycan, Porsche Cayenne E-Hybrid, and Porsche Panamera E-Hybrid – boast more spirited performance than many of our most capable legacy models despite their reduced emissions.
Porsche Taycan
Our first entry into the thriving all-electric segment, the Porsche Taycan four-door, immediately demonstrates zero-emissions can amplify capability. To be precise, Taycan drivers wield up to 390 kW / 522 horsepower when using Launch Control. Whether the 3.8 second 0-60 mph figure or the EPA-estimated 192-mile range is more impressive, the fact that the Taycan manages both is an unparalleled feat.
Porsche Cayenne E-Hybrid
For drivers seeking to invigorate sustainable technology into every journey around the streets of Los Angeles without diving headfirst into a full-electric powertrain, the Porsche Cayenne E-Hybrid will more than impress. Yes – it's a plug-in hybrid SUV with enough all-electric range to finish errands around town without using a drop of gas, but the 455 horsepower and 157 mph top track speed tell a story that firmly resonates with the race track.
See Cayenne E-Hybrid Inventory
Porsche Panamera E-Hybrid
At the apex of efficiency, refinement, and performance, the Porsche Panamera E-Hybrid resides without a shadow of competition. That's because there's nothing that strikes a remotely similar balance of an EPA-estimated 51 MPGe and 457 horsepower, let alone combines a twin-turbocharged combustion engine with an electric motor.
See Panamera E-Hybrid Inventory
The Future of Hybrid & Electric Performance Is Available Now at Porsche Ontario
Now that you have a glimpse into our hybrid and electric lineup, allow us to put you in the driver's seat of the model that best captures your every driving need. Still on the fence about going green? Learn more about the ownership cost benefits of driving an electric or hybrid Porsche.
And when you're ready to get behind the wheel, contact us at Porsche Ontario to schedule a test drive.